FIND AUTO BODY SHOPS
IN Tamarac, FL TODAY
Auto Body Repair, Simplified.
NEED AUTO BODY REPAIR SERVICES?
LOCAL BODY SHOPS IN Tamarac WILL PROVIDE ESTIMATES TO REPAIR YOUR VEHICLE.
GET FREE QUOTES FROM LOCAL SHOPS
READ REVIEWS & PREVIEW WORK
CHOOSE A CERTIFIED SHOP WITH YOUR OWN CRITERIA
SIT BACK & RELAX, YOUR REPAIR IS IN GOOD HANDS
Here are the top Auto Body Repair Services in Tamarac, FL as of July 2021
When choosing a collision repair facility to care for your vehicle, it all comes down to a matter of trust. Ideal Auto Collision is one of the largest family owned and operated collision repair centers in South Florida. You can be confident that your car is in capable hands and that your vehicle will be restored to its original safety, performance and beauty. Through our integrity and commitment to the industry, we at Ideal Auto Collision have earned the trust of our customers. This principle is built into everything we do. From employing I-CAR trained & ASE certified technicians, maintaining a state–of-the-art repair facility, and using only the highest quality refinish products, equipment, and parts, you will see that we are indeed committed to delivering the highest quality repair to your vehicle.
For over 30 years, Classic Collision has put customer satisfaction first in all we do! We are proud to provide high-quality auto body repairs with properly trained technicians and the appropriate equipment. We hold several manufacturer certifications and factory-direct training which makes us a leader in comprehensive collision repair. In addition to our technical skill, our founder had one goal when starting Classic Collision. He wanted to serve his customers with honesty and integrity, while using the best talent and highest quality materials. We are happy to be serving our customers with the same goal over 30 years later and hope to be serving you for many more years!
King's Body Shop is a family-owned and operated business serving Hollywood, Florida for over 25 years and have with over 75 years combined experience. Striving to provide the highest-quality repairs and bodywork to ensure maximum customer safety and satisfaction at an affordable price.
Family-owned and operated for over 45 years. Auto body repair and painting. Heavy collision claims, small customer pay work. Cosmetic work to any vehicle. Donny takes pride in all of the work done and stands behind it all with a warranty. He has many loyal customers and referrals are always ongoing.
Established in 1974, Brilliant Collision Center is a family-owned and operated auto paint and body shop in Hollywood, FL. Serving all clients from Hollywood, Hallandale, Fort Lauderdale, and the other surrounding regions, we have gained a loyal customer base. Our large facility features the best equipment on the market to help our trained specialists to provide the fastest and highest quality auto body repair and paint service. We easily restore your car to its former glory. Brilliant Collision Center offers a lifetime guarantee on all our work. We are also certified technicians of the ASE (Automotive Service Excellence).
Got dents, scratches, or any cosmetic concerns with your vehicle? Welcome to Start2Finish, where we are dedicated to simplifying and providing the best auto body repair experience possible. We built the S2F platform with you in mind.
Empower yourself with the ability to quickly receive estimates from top-rated body shops near you. Conveniently compare shops by visiting their profile and viewing customers before and after photos accompanied by written reviews. Forget about the headache of having to call shops to set appointments. With S2F, easily schedule in-person quotes or receive estimates with a few taps on your mobile device. Our platform also keeps you notified throughout the full repair cycle including upcoming appointments, vehicle drop-off dates, vehicle pick-ups, and any messages your body shop may have for you. To top off the complete auto body repair experience, all payments are securely processed through Start2Finish and supported by our Buyer's Protection.
Our certified partners must meet a high standard of quality in order to become a part of the platform. Customer satisfaction is the core value for our Start2Finish team, partners, and technology. We understand how stressful car dent repair or any other damage can be. There is also the factor of receiving a wide range of estimates for the same exact repair. Our partners know they are competing for your business, therefore will always offer the best price to safely restore your vehicle back to new.
We are committed to streamlining the auto body repair experience and provide a seamless solution to both users and our shop partners. S2F provides a guaranteed, full-cycle auto body repair experience, Start to Finish!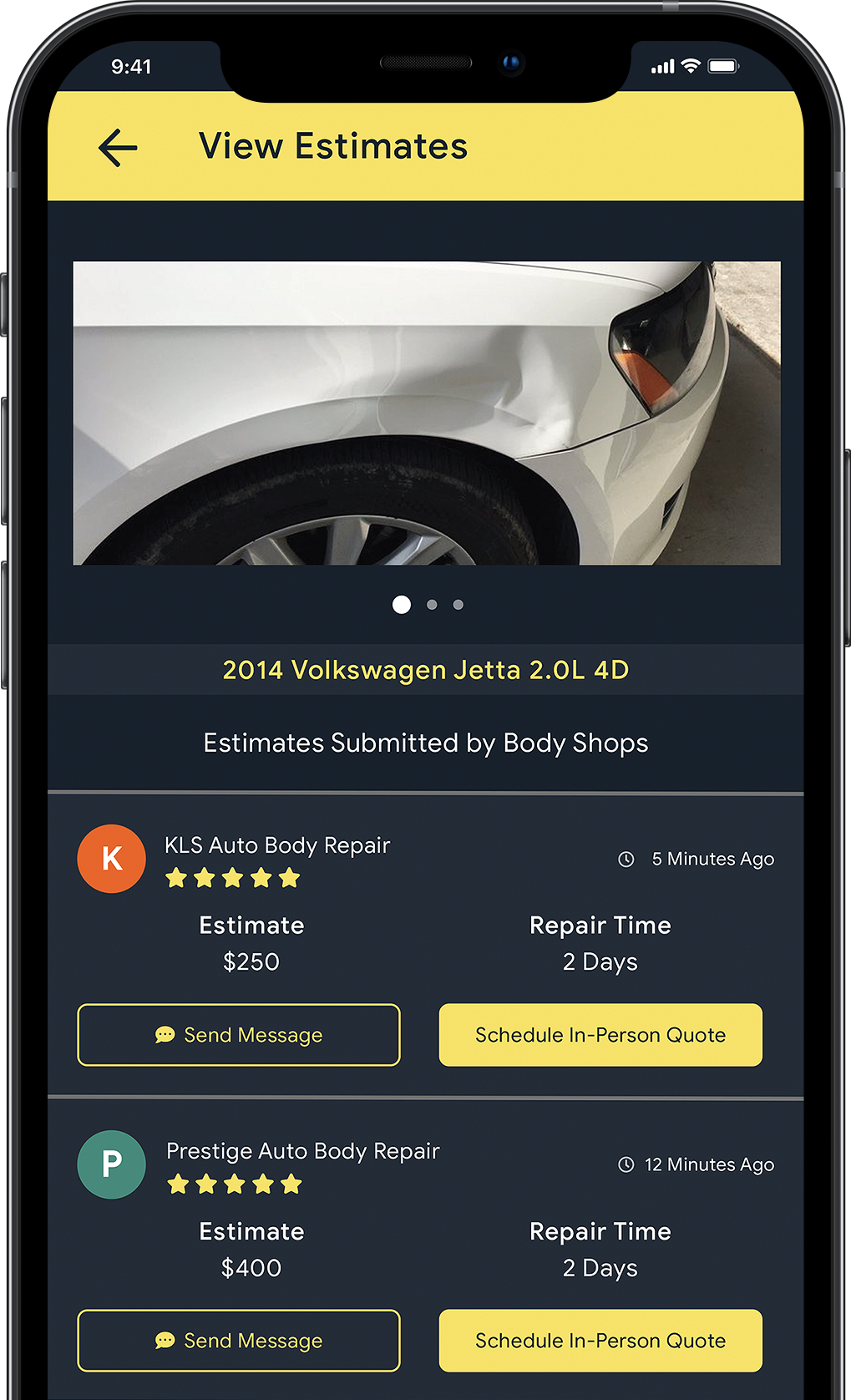 TIRED OF SEARCHING FOR THE PERFECT BODY SHOP?
See how S2F works.
Here is what other Start2Finish users have to say...
SAVE TIME, SAVE MONEY.
Repair Your Vehicle with Start2Finish.