Wondering whether auto body shops give free estimates? The answer is yes! Most auto body shops offer free estimates to help you understand the cost of repairs. In this blog post, we'll explain why estimates are so important and what you should know when getting an estimate from an auto body shop.
Why Get An Estimate?
Getting an estimate from an auto body shop is essential for understanding the cost of your repairs. It also helps you compare different repair options and shop around for the best deal. Plus, it can help make sure that you get a visual understanding of your vehicle's damages and needs.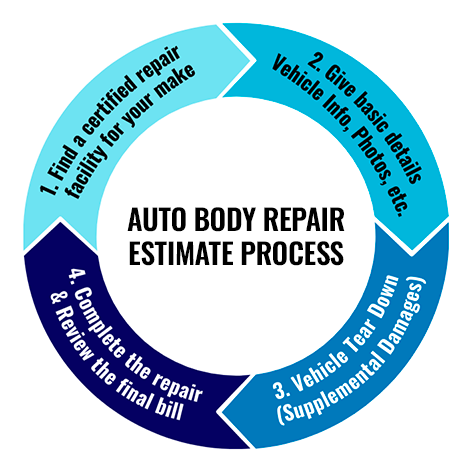 How To Get A Free Estimate
Don't just type into google "auto body repair near me free estimate" and choose the first body shop that comes up. Be sure that your first step is to find a certified body shop specific to your make. Meaning if you have a Honda, you are getting a repair from a Honda Certified Facility. The Start2Finish auto body repair app can help you locate just the shop. Once you have found a certified shop, getting a free estimate from an auto body shop is usually as simple as giving them a call, filling out a form on their website, or messaging them directly on the Start2Finish app. When giving details about the damage, be sure to provide the specifics about your vehicle, such as make and model, VIN, year, mileage, and any other relevant information they may need. This will ensure that they are able to give you an accurate estimate. You may also want to ask if they offer any discounts or special promotions that could save you money on your repairs.
What To Look For In An Estimate
When looking at an estimate from an auto body shop, there are a few things you should keep in mind. First, make sure that the estimate includes all of the parts and labor necessary for the repairs. Second, ask the shop about the estimated timeline for receiving the parts and completing the work—you don't want to be waiting too long for your car to be fixed! Additionally, check for any extra fees or services listed on the estimate—such as cleaning or painting charges—and make sure that those are included in your final cost before signing off on anything so there are no surprises. It is also a good reminder to ask your repair facility if the parts used to perform the repair will be OEM, Aftermarket, or recycled, as this can greatly affect the price of the repair.
Supplemental Damages
The auto body industry is notorious for providing an estimate to customers that do not match their final bill. Though there are some repair shops with bad intentions, the reality is that pricing auto body damage without performing a complete tear-down of the vehicle's surrounding parts is very difficult. In some instances, there may be damage found under the dented body panels, compromising the structural integrity of the vehicle. When these additional damages are found, often called "Supplemental Damages", the auto body shop will discuss any new repair options with you or your insurance companies and produce a new estimate with the additional cost included.
So there you have it—auto body shops do offer free estimates! However, it's important to analyze your estimate with a trusted person to understand what work is being done to your vehicle and to ensure you are getting the full value of your repair. Speak to a Start2Finish Support Agent if you have any questions on your estimate that you need to be addressed by an outside party that is focused on getting you back safely on the road!